Halloween Pennant Dragonfly
Halloween Pennant Dragonfly


Halloween Pennant Dragonfly


Halloween Pennant Dragonfly


Halloween Pennant Dragonfly


Halloween Pennant Dragonfly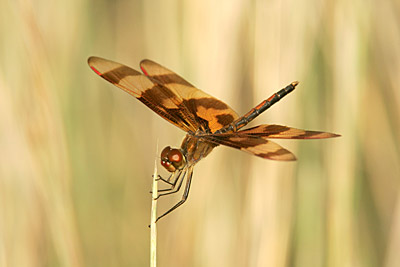 Halloween Pennant Dragonfly



Halloween Pennant Dragonfly

The Halloween Pennant, Celithemis eponina, is a dragonfly found in North America, in the Pennant genus of dragonflies.

The Halloween Pennant has been described as looking very similar to a butterfly. Its wings are orange-yellow in color, though its markings are dark brown, not black as is commonly believed; the entirely orange-yellow wings with dark brown bands are what has given it its Halloween common name and its typical position of being perched at the tip of a weed stalk, waving in the breeze like a pennant contributes to the remainder of its common name. The young has yellow markings, including a stripe on its back, and adult males develop pale red markings, particularly on the face, though females will occasionally get these red markings too. Halloween Pennants are normally between 38 and 42 mm (approx. 1.5 inches) in size. They feed on other insects, and they are able to fly in rain and strong wind. On hot days, it will often shade its thorax using its wings.\

Species Name: Celithemis eponina - Halloween Pennant Dragonfly .

Size: length: 30-42 mm; abdomen: 20-30 mm; hindwing: 27-35 mm.

Identification: This is the largest, most widely distributed, and perhaps most colorful small pennant species in the region. Its common name is descriptive because of its distinctive orange and brown or black wings. The face is yellowish or olivaceous, becoming darker with age and red in males. The thorax is yellowish-green with a dark middorsal stripe and narrow lateral stripes on the sutures. The midlateral stripe is usually not continuous after the spiracle. This is the only species with completely yellowish-orange wings marked with broad dark brown or black stripes and a red pterostigma. The abdomen is slender with pale yellow dorsal spots on segments 3-7 that become red with age.